Podcast: Play in new window | Download
Special thanks to Gangland Wire podcast cohosts Gary Jenkins and Aaron Gnirk.
Gary and Aaron allowed me to re-post this episode from their show on FBI Retired Case File Review. I was interviewed on the Gangland Wire podcast in October 2017 and it was such a fun and crazy episode I thought I would share it with you here.  After  you listen to this episode, please give Gary some love and check out his podcast at GanglandWire.com or any of the popular podcasts app.
The main thing you need to know about this case is that before Harvey Weinstein, there was Frank Antico, Sr. and Boobgate. This true crime FBI Philadelphia strip club investigation featured extortion, sex, money, and more and a case review is certainly timely and relevant.  Some of Frank Antico's antics will shock you. One important disclaimer: This was not my case, but I know it well because it inspired me to write my FBI crime thriller, Pay To Play.
Here's a summary of the Frank Antico investigation:
Frank Antico, an official in the Philadelphia's Department of Licenses & Inspections, was sentenced to 63 months in prison, as well as a $10,000 fine, for a 13-year-reign of racketeering, extortion, and fraud. He was convicted of racketeering for extorting money from topless bars, a check-cashing agency, a nightclub, houses of prostitution and a private businesswoman between 1983 and 1995. The jury also convicted him of defrauding city residents of his loyal services by setting up his mistress as a private consultant who could get permits and zoning quickly for clients that he sent to her. The mistress made more than $700,000 over 10 years and, in return, the L&I official didn't have to pay her about $30,000 in child support for their two sons. Four ex-lovers of the L&I official who testified for the prosecution and other witnesses portrayed him as an oversexed, middle-aged, city bureaucrat who haunted topless bars and took anything owners gave him, including free sex, even after he became L&I's chief inspector in the 1990s. Evidence showed that out on the town, he was treated by club owners to free booze, food, $100 bills, couch dances, a pig roast, a picnic for his pals, strippers for a deputy mayor, limo rides and Phillies tickets. In return, club operators could operate outside the law. (Source – Philadelphia Daily News)
The following are links to newspaper articles about the Frank Antico investigation and the release of Pay To Play: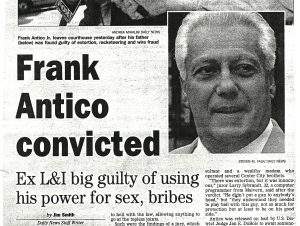 City Paper – May, 1999:  Thanks for the Mammaries
Billy Penn – July 15, 2015: Bribes, strippers, corruption and red tape: Philadelphia's Department of Licenses and Inspection
Philadelphia Inquirer – November 12, 2015:  Jerri Williams quits SEPTA to pen steamy crime novel
Philly Mag – November 10, 2015:  SEPTA Spokeswoman Jerri Williams Plots New Career: Crime Novelist
Jerri Williams, a retired FBI agent, author and podcaster, attempts to relive her glory days by writing crime fiction and hosting FBI Retired Case File Review. The true crime podcast available for subscription on Apple Podcast, Stitcher and other popular podcast apps. Her FBI crime thriller—Pay To Play— about a female agent investigating corruption in the Philadelphia strip club industry is available at amazon.com as an e-book, trade paperback and audiobook.