Podcast: Play in new window | Download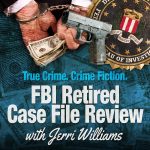 Retired agent Dale Miskell served in the FBI for 23 years. His assignments included the Sacramento Field Office, Washington Field Office, the Cyber Division's Internet Crime Complaint Center, and the Birmingham Field Office. In this episode of FBI Retired Case File Review, Dale is interviewed about the Internet Crime Complaint Center, known as IC3 and reviews his Nigerian re-shipping fraud case where individuals were recruited to receive merchandise at their place of residence and repackage the items for shipment to Nigeria. Unbeknownst to them, the merchandise was purchased with fraudulent credit cards. Dale Miskell traveled to Lagos, Nigeria to train police officers to investigate re-shipping fraud and assisted in the first ever arrests and prosecution in Nigerian courts of on-line cyber scams. While at Birmingham, home base to more than 430 cleared defense contractors, Dale Miskell supervised the Cyber Crime Squad and developed an expertise in targeting and combatting the computer hacking processes of advanced persistent threat actors. He also established and led one of the FBI's first Cyber-Counterintelligence Task Forces.
Podcast: Play in new window | Download

Retired agent Shawn Henry served in the FBI for 24 years. When he left the Bureau in 2012, he was overseeing all criminal and cyber investigations worldwide as an Executive Assistant Director (EAD). During his career, Shawn held multiple positions relating to cyber crime and computer intrusions, including Deputy Assistant Director and Assistant Director of the Cyber Division at FBI Headquarters; Supervisor of the FBI Cyber Crime Squad in Baltimore; and Chief of the Computer Investigations Unit within the FBI-led National Infrastructure Protection Center. In this episode of FBI Retired Case File Review, Shawn Henry reviews his management of computer crime investigations spanning the globe, including denial-of-service attacks, bank and corporate breaches, and state-sponsored computer intrusions. Currently, Shawn is the president of CrowdStrike Services and leads a team of cybersecurity professionals who investigate and mitigate targeted attacks on computer networks.
Podcast: Play in new window | Download

Retired agent Bea DeFazio served in the FBI for 23 years, seven as a member of the Special Surveillance Group (SSG) following spies in New York and 16 as a special agent. In this episode of FBI Retired Case File Review, Bea DeFazio reviews the last half of her agent career, where she worked undercover to ferret out child predators trolling in online chat rooms. She posed as a child or teen and engaged in conversations with child predators in an attempt to identify them and arrest them for exchanging child pornography—more appropriately labeled child sexual exploitation images—and/or soliciting in-person contact for sex. Bea said that this emotionally difficult work was by far the most rewarding she did for the Bureau. She also talked about her collateral duties as a member of the Evidence Response Team (ERT) and, immediately after the terrorist attack on the World Trade Center Towers, working at the Fresh Kills landfill sifting through debris for evidence, personal items belonging to victims and human body parts.