Podcast: Play in new window | Download
Show Notes:
Karl LNU, who asked that I not use his last name (LNU stands for last name unknown – or in this case unused), was investigated, charged and convicted of bribing corrupt purchasing agents to approve invoices for over-priced and inferior lighting and maintenance supplies. The scam was operated by phone. Karl, his business partner and their employees made telemarketing calls to unsuspecting businesses throughout the United States and ripped them off with the help of their own greedy employees. Karl pled guilty and served time for business to business telemarketing fraud, but his sentence was reduced significantly based on his decision to become a cooperating witness, assisting a multi-agency Group II undercover investigation targeting the business to business telemarketing fraud industry in the Philadelphia area. This was one of my economic crime cases. The investigation, worked in partnership with the U. S. Postal Inspection Service (USPIS) and with assistance from the Internal Revenue Service Criminal Investigative Division (IRS-CID), resulted in 16 search warrants and 25 convictions.
Podcast: Play in new window | Download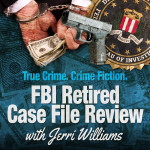 Show Notes:
Welcome to episode 4. In this episode, I interview Judy Tyler, who served 31 years as an agent with the FBI. Judy talks about being one of the first women to join the Norfolk, Virginia police department and the dangerous drug world she navigated for most of her FBI career. Post retirement, she continues to share her experience and expertise by training current agents to develop informants as part of a specialized FBI in-service program. We discussed the importance of working well with  sources and cooperating witnesses and how crucial this skill set is to the success of the Bureau.