Podcast: Play in new window | Download

Retired Special Agent Barbara Verica served in the FBI for 30 years. Barbara worked counter-intelligence matters for the first 15 years of her career and investigated economic crimes for the last fifteen. In this episode of FBI Retired Case File Review, she is interviewed about the two years she worked undercover in Manhattan gathering intelligence and the evidence needed to prove that her neighbor, a diplomat for an unidentified foreign country, was selling secrets to the former Soviet Union. She actually befriended the wife of the diplomat and Barbara talks about how difficult it was, at times, to maintain her cover while betraying her "friend." This case reminds me of the FX TV show The Americans, about two KGB spies posing as a married American couple living next door to a FBI counter-intelligence agent.
Barbara also discusses an $5 million investment fraud case she investigated where in the subject harassed and threatened to sue everyone involved, including the investment firms, victims of the fraud, a local judge, a federal judge and Barbara.
I recommend the legal thriller The Last Good Girl by Allison Leotta. —- Jerri
SPECIAL AGENT (RETIRED)
BARBARA R. VERICA
08/24/1979 – 07/31/2009
Barbara Verica is unable to reveal case specifics or provide written narrative accounts of her time as an undercover spy in the early 1980's. However, she supplied below links to two newspaper articles about the investment fraud case she worked later in her career:
Wall St. swindler receives jail term The Plymouth Meeting man, called "utterly incorrigible" by the judge, was also ordered to make restitution.
Scam artist is guilty again Steven A. Schwartz, who has a record of check kiting and fraud, was convicted of bilking investors of about $1 million.
Jerri Williams, a retired FBI agent, author and podcaster, attempts to relive her glory days by writing crime fiction and hosting FBI Retired Case File Review, a true crime podcast available for subscription on iTunes and Stitcher. Her novel—Pay To Play— about a female agent investigating corruption in the Philadelphia strip club industry is available at Amazon.com.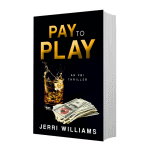 This episode was sponsored by FBIRetired.com – the only on-line directory made available to the general public featuring "retired" FBI AGENTS / ANALYSTS interested in showcasing their skills to secure business opportunities.