Podcast: Play in new window | Download
Special thanks to Eric Hunley, host of the podcast Unstructured.
Surprise! I know you weren't expecting to hear from me this week. As planned, I'm not posting an episode of FBI Retired Case File Review. However, Eric Hunley, the host of Unstructured, who interviewed me on his show in November 2018 and was kind enough to allow me to post the episode on my FBI Retired Case File Review podcast feed. Eric and I talk about a variety of topics. We had a great time. I hope you enjoy learning a little more about my FBI career and interests.
As you may recall, I took two weeks off from working at my computer to give my shoulder and arm a little rest from an overuse injury. I feel so much better now. Actually, I took a boot camp class this week. That's real progress. During most of December, I was unable to lift my right arm to change clothes or brush my hair.
On Unstructured Eric has intimate conversations with a diverse range of people, athletes to authors to innovation experts, to podcasters. He describes himself as a mid-pack runner, author, and tech enthusiast. I was pleased to collaborate with Eric and introduce him to retired agents Jim Fitzgerald and Eugene Casey. When you check out Unstructured, make sure you listen to their conversations with Eric, episodes 100 and 103.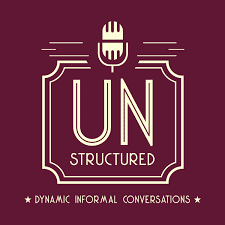 Unstructured on Twitter
Unstructured on Facebook
Unstructured on Instagram
My podcast interviews on Inspired Money and Ask Win
In addition to my appearance on UnStructured, I was recently interviewed on the Inspired Money podcast where I discussed fraud and scams and shared my personal money experiences with host Andy Wang. The episode is available at www.inspiredmoney.fm/072, iTunes, Spotify, and other podcast platforms.
I also was on Ask Win, a podcast that looks into daily life issues, books and how we mold our creative freedom. The host is Win Charles, a woman who has spent her entire life not allowing cerebral palsy to stop her from achieving her goal. We had a great conversation. You can listen to the episode here.