Podcast: Play in new window | Download

Retired agent Denise Minor served nearly 29 years with the FBI. In this episode of FBI Retired Case File Review with Jerri Williams, Minor is interviewed about her extensive investigative experience working overseas primarily in various countries in Africa and in the United States utilizing her French language skills to communicate, interpret and translate during her career.  In addition to serving as the Legal Attaché or LEGAT in Rabat, Morocco, Minor was a French interpreter for the Protocol Office in support of FBI Director Louie Freeh and other FBI executives, deployed to Nairobi, Kenya to lead a small team with French language skills to conduct terrorism investigations in the Federal Islamic Republic of the Comoros Islands, deployed to Rwanda to investigate human rights violations and genocide and had numerous other assignments that took her to Yemen, Haiti and other French-speaking destinations around the world. Her state-side assignments, included leading a team of crime analysts at the Behavioral Analysis Unit, Violent Criminal Apprehension Program and serving as a leadership development program facilitator on the FBI Leadership Learning Delivery Team.  After retiring from the FBI, Minor, a licensed attorney and certified personal coach, opened her own leadership development consulting firm, MindSpring Metro DC, Inc.
Podcast: Play in new window | Download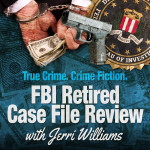 Retired agent Brig Barker served in the FBI for twenty years. As a combat veteran and a highly respected linguist with full fluency in Arabic and a professional working proficiency in German, during his Bureau career Brig was frequently deployed overseas to work on major counterterrorism matters. From 1998 until his recent retirement, Brig was assigned to operational investigations in Nairobi, Kenya; Kampala, Uganda; Cairo, Egypt; London, England; Freetown, Sierra Leone; and Tunis, Tunisia; to name a few. In this episode of FBI Retired Case File Review, Brig Barker reviews his deployment to Sierra Leone, where he was tasked with officially opening the FBI Attaché office there and establishing liaison with local leaders and diamond merchants. He initiated the investigation in to allegations that profits from the sale of blood diamonds were being funneled to terrorist organizations. Allegedly, diamonds were being used for this purpose due to the gem's high value and portability. Brig now operates his own global security consulting company, Counterterrorism Consultants International (ct-consultants.com). Brig also conducts free webinars regarding terrorism issues in America.
Podcast: Play in new window | Download

Retired Special Agent Edward Shaw served 25 years with the FBI. Ed is fluent in Japanese and was appointed as the Assistant Legal Attaché (ALAT) in Tokyo, Japan from 1999 to 2004 and promoted to the Legal Attaché (LEGAT) from 2009 to 2012.  In this episode of FBI Retired Case File Review, Ed talks about two cases he worked while in Japan. One focused on the capture of an American fugitive who had fled to Taiwan after murdering his wife in Vermont and the other involved the investigation of the theft of an Allosaurus dinosaur fossil illegally exported from the U.S. Each of these cases shows from beginning to end what a Legat does when handling the overseas aspect of an international FBI investigation. You can visit the FBI website for an Overview of the Legal Attaché Program. Ed's blog Tokyo2020OlympicsSecurity.com provides insight in to how Japanese intelligence and law enforcement departments and security agencies handle terrorism investigations as they prepare to host the Olympics in Tokyo in 2020. His most recent post comparing gun laws in Japan and with gun laws in the United States was quite thought-provoking.