Podcast: Play in new window | Download

Retired agent and former FBI profiler Dr. Mary Ellen O'Toole, Ph.D., served in the FBI for nearly 28 years. For more than half of that time, she worked in the Bureau's prestigious Behavioral Analysis Unit (BAU) where she consulted on many of the FBI's highest profile and most complex cases, including homicides, kidnappings, sexual assaults, predatory behavior, child molestation and other crimes of violence. In this episode of FBI Retired Case File Review, Mary Ellen O'Toole, who is recognized as the FBI's leading expert in "psychopathy," discusses serial killers and reviews the case of the Green River Killer Gary Ridgway, who was convicted of killing 49 women. Post retirement, Dr. O'Toole is an internationally recognized Forensic Behavioral Consultant and Lecturer. She makes frequent media appearances on major TV news programs and radio affiliates and has been interviewed in prominent newspapers and publications around the country. In 2015, Mary Ellen O'Toole was appointed as the Director of the Forensic Science Program at George Mason University in Fairfax, Virginia. Her book Dangerous Instincts: How Gut Feelings Betray Us introduces the right way to assess people for everyday situations in our personal and professional lives, and how to make safer decisions about them and the situations they create for us. You can learn more about Dr. Mary Ellen O'Toole by visiting her website MaryEllenOtoole.com.
Podcast: Play in new window | Download

Retired agent Jim Clemente served in the FBI for 22 years. Prior to joining the FBI, Clemente was a prosecutor in the Child Sex Crimes Prosecution Team in the Bronx, New York. His first FBI duty assignment was in the New York Field Division's Joint FBI/NYPD Sexual Exploitation of Children Task Force. After assignments in Little Rock Division and the Washington Field Office, Clemente was appointed as a supervisory special agent in the FBI's Behavioral Analysis Unit in Quantico, VA. In this episode of FBI Retired Case File Review with Jerri Williams, Jim Clemente is interviewed as a follow-up to prior episodes focused on child abductions and child sexual predators. As a nationally recognized expert in the fields of sex crimes investigations, sex offender behavior and child pornography, he has investigated and consulted on thousands of cases involving serial murder, serial rape, child abduction, sex crimes, homicide, threats, bombings and the sexual victimization of children. In his work, he has interviewed hundreds of victims and offenders. He is a host of the popular true crime podcast Real Crime Profile and also serves as a writer and producer for Criminal Minds, the long-running CBS FBI crime drama. Jim Clemente is the author of the crime novel Without Consent, a fictionalized account of his personal loss of innocence at the hands of a child sex offender.
Podcast: Play in new window | Download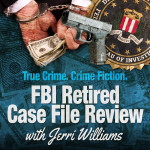 Jim Fitzgerald, a former FBI profiler, served twenty years with the FBI. Jim is one of the most respected forensic analysts and linguistics experts in the country. In addition to his many "expert" court appearances, Jim is called upon for his expertise by the entertainment and news industries. In this episode of FBI Retired Case File Review, he reviews his role in solving the Unabomber case and several other  high-profile investigations, as well as his work as a technical consultant on the TV shows Criminal Minds and Sleepy Hollow and regular appearances on CNN for expert commentary on current events. We also chat about his memoir – A Journey to the Center of the Mind: Book 1.